14 July 2012 From Jason personally:


I first heard the news of Perry's passing a few minutes before my solo show in London. I was determined to do a great show, since I knew that is what Perry would have wanted. I waited until the encores to announce the news, and then told stories of Perry and sang "White Lies", then my favorite Perry generated Scorcher song "Somewhere Within". Everyone in the room knew what he had done, and the enormous God Given talent that man was blest with.

Perry and I shared many common Spiritual and Musical beliefs. It was no accident that his harmonies with me were sublimely perfect. He had a gift was making me sound better than I am! In later years we drifted apart, but I will always count the 20 years I spent in the trenches with him to be one of my life's great blessings. My good memories with him are beyond count. I will always hear that voice.

Much is made of Perry's drumming, and seldom a month passes where I don't meet a drummer who was deeply influenced by his originality. However, Perry was a total musician. Music was his DNA, the way a bird flies south or a rooster crows in the morning. He could play guitar, piano, bass, drums, and trumpet. He was a brilliant singer, and his songwriting helped define Jason and the Scorchers. He was also a great song arranger, a fact very few folks knew about him. He wrote songs in three dimensions, not just a melody and lyric.

In the 90s, when the band travelled in the US we normally took separate vehicles to give everyone their space. We were a volatile outfit. Me and Perry were paired in one of the cars. He drove nights and I drove the days. I would go to sleep with 200 miles to go and wake up 2 hours later at the destination! To this day I don't know how he did that!! But that was Perry. He had many gifts.



13 July 2012 - http://www.facebook.com/warnerehodges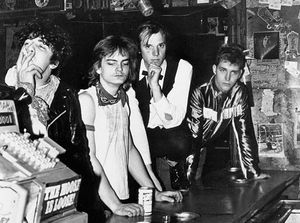 Quite a few years ago.  Hadn't even started really licking up dust yet.  This is where and how I remember Perry A. Baggs.
He was simply put ferocious and crazy talented!!!!!


Katrina Cornwell's Blog:  http://www.ripperrybaggs.blogspot.com/



http://blogs.tennessean.com/tunein/2012/07/12/jason-and-the-scorchers-drummer-perry-baggs-dies-at-50/
Jason and the Scorchers drummer Perry Baggs dies at 50
Posted on July 12, 2012 by Dave Paulson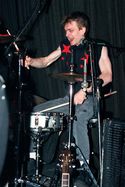 Perry Baggs, performing with Jason and the Scorchers at Nashville's Exit/In in 1995. (Helen Comer /The Tennessean)

Perry Baggs, local musician, songwriter and former drummer for award-winning Nashville rock band Jason and the Scorchers, was found dead early Thursday morning at his home in Goodlettsville, Tenn.
Mr. Baggs was 50, and had been battling diabetes and kidney failure for many years. Metro police spokesman Don Aaron said Mr. Baggs' death appeared to be "natural or medical related," and an autopsy would be conducted.
As drummer for the Scorchers, Mr. Baggs helped blaze a path for Nashville rock music in the 1980s with a blistering blend of punk rock and classic country music.
The band formed in Nashville in 1981 and quickly became stars of the city's then-budding rock scene. After a major-label bidding war, the Scorchers released several albums on EMI (and later A&M Records), which brought their brand of country-punk to the MTV airwaves via their cover of Bob Dylan's "Absolutely Sweet Marie."
Mr. Baggs was known not only for his propulsive drum work, but for co-writing songs including "If Money Talks" and "White Lies," songs that helped the Scorchers to become a groundbreaking force in Nashville rock 'n' roll. He also was a tremendous harmony vocalist, able to sing parts that soared above lead singer Jason Ringenberg.
"The world lost a serious talent," Scorchers guitarist Warner Hodges said. "Perry was an amazingly gifted, natural musician. He could play anything and he could sing anything, and there's not a lot of guys that can do that."
Mr. Baggs' and his band's efforts earned glowing reviews (The New York Times called them "one of the great rock bands of the 1980s") and devoted fans, but large-scale mainstream success eluded them. After being dropped from their second major label, the Scorchers disbanded in 1990.
Above: Jason & the Scorchers on "Late Night with Conan O'Brien" in 1998.
Three years later, the band regrouped for another string of albums, and had continued to perform sporadically in the new century, though Mr. Baggs' health problems eventually forced him off the drums. He played drums for the Scorchers for the final time at the Ryman Auditorium in 2008, when the band received a lifetime achievement award from the Americana Music Association dur-ing its annual awards show.
"I love these guys and I'm going to miss them," Baggs told the Tennessean before the performance. "If I don't have kidneys, I can't tour. Once, I tried to walk away from this and say it doesn't matter, but it matters every day. We're going to play two songs at the Ryman, and I don't care if they take me away in an ambulance."
Mr. Baggs was also an employee of the Tennessean for 17 years, working as an archivist in the library until 2008. In recent years, Mr. Baggs had become extremely active in his church, playing bass guitar with the Scottsboro First Baptist Church Praise Band.
Mr. Baggs had been wrapping up work on a gospel album entitled "Hymns for Him."
"I'm living a wonderful, beautiful life," he told the Tennessean in 2010.
Mr. Baggs is survived by his a daughter, Faith Elizabeth Baggs of El Paso, Texas; sisters Grace, of Nashville, Kelly and Rachel, both of Knoxville; and several nephews.
Funeral arrangements are pending.
http://kevinoliver.wordpress.com/tag/jason-the-scorchers/
MUSIC THAT MATTERS
The random musical musings of Kevin Oliver
Perry Baggs, Original Jason & the Scorchers Drummer, R.I.P.
Sad news today for fans of seminal alt-country/cowpunk/roots rock act Jason & the Scorchers…the band's original drummer Perry Baggs has passed away.
I had the opportunity to see the Baggs-anchored lineup of the Scorchers multiple times in my collegiate days of the late 1980′s and those gigs (mostly at the late, great Rockafellas but also a memorable pair of outdoor shows on the USC campus) remain among the best live shows I've ever seen. The band as whole, Perry included, were always gracious and thankful to those of us who came out to support their appearances.
From the information provided in the official obituary online today and written by Katrina, his girlfriend for the past 12 years, Perry found God and some peace in his life, too. Scroll down past the obit for a few classic Scorchers videos:
Perry Armand Baggs III, 50, was born in Nashville March 22, 1962 to his parents, Perry Armand Baggs II and Betty Grace Baggs. He was raised in the Sylvan Park area and went to Cohn High School. Perry's family attended Park Avenue Baptist Church during his childhood and adolescent years. His mother and father were talented singers, who played a key role in the church's musical pro-gram. Perry has a daughter, Faith Elizabeth Baggs, El Paso Texas; three sisters, Grace, of Nashville, Kelly and Rachel, both of Knoxville; and several nephews. When Perry was about 19 years old, he got an opportunity to audition as a drummer for the Nashville-based, country-punk band Jason and the Scorchers. He spent the next 21 years as the band's percussionist. Jason and the Scorchers were on major record labels. They had music videos on MTV and toured with some of the best in the busi-ness, notably REM and Bob Dylan. Jason and the Scorchers garnered critical acclaim in the early 1980s for its unique blending of the country and punk rock musical genres. The critics loved the band, and in 2008, Jason and the Scorchers earned a lifetime achievement award for best musical per-formance at the Americana Music Awards, held at The Ryman Auditorium in Nashville. Perry also worked as an archivist in the library of The Tennessean newspaper for 17 years before he was offered a buyout as part of a massive, company-wide reduction in staff at that time. He then sought disability because he had already been on dialysis for kid-ney failure for two years. He began receiving a disability check within six months of the initial filing. Since that time, he has been an active member of Scottsboro First Baptist Church. For the past three years, Perry has been a dedicat-ed soloist and bass player at church. For a few months, the church has been paying him to play bass. Before that, he donated his time. Perry's contribution to the Scottsboro First Baptist music program helped the worship services to come alive, to touch someone's heart for Christ. Perry was kind, compassionate, funny, generous, loving and high-energy. He was someone who enjoyed life. Perry loved home-cooked meals, movies, music, surfing big waves at the beach and to spend time with people he considered family: blood relatives, church members, friends and his significant other. Most of all, he loved God, and he lived his life for Jesus Christ every day.

www.musicrow.com/2012/07/the-scorchers-perry-baggs-passes/
The Scorchers' Perry Baggs Passes

Pictured (L-R): Warner Hodges, Perry Baggs, Jason Ringenberg, Jeff Johnson
Perry Baggs, the longtime drummer for Nashville cowpunk crusaders Jason and the Scorchers, has died. He was 50 years old and had been in failing health in recent years, spurred by a lengthy battle with diabetes.
Baggs was born in Nashville on March 22, 1962.
Jason and the Scorchers is credited with shining a national spotlight on Music City's non-country scene. Led by Jason Ringenberg, the band formed in 1981, fusing classic country with punk flavor. The group was signed to Praxis International, headed by Kay Clary, Jack Emerson and Andy McLenon.
"As the drummer for the original Jason & The Scorchers quartet, Perry Baggs' role in creating their intense chemistry may have been less obvious than that of the other members but was no less vital," explains Clary. "Along with his ability to whiplash be-tween sincere loping country and punk-frenzied beats, he also wrote two of the band's catchiest songs 'If Money Talks' and 'White Lies.' He was the kind of person for whom the phrases 'wouldn't hurt a flea' and 'never met a stranger' were invented to describe. Nashville won't be the same without his sweet presence."
Over the years the band's activity has waxed and waned. Baggs left the group in 2003. Ringenberg went on to become the popular kids entertainer Farmer Jason.
In 2007 The Scorchers played a pair of reunion shows at Exit/In to benefit Baggs.
In 2008 the Americana Music Association honored the band with its Lifetime Achievement Award. The reunited group released the 2010 effort Halcyon Times. Baggs contributed harmony vocals to the project.
Sarah Skates • July 12, 2012


http://themusicsover.com/2012/07/12/perry-baggs/
RIP, Perry Baggs (July 12, 2012) Jason & The Scorchers
Posted by themusicsover on July 12, 2012
Perry Baggs DOB Unknown – July 12, 2012
Photo by Helen Comer/The Tennessean
Perry Baggs was a Nashville-based drummer who is perhaps best remembered for providing the back beat for influential cowpunk band, Jason & the Scorchers. Formed in 1981 by Jason Ringenberg, the band successfully married elements of classic country with the ferocity of punk rock. Although country rock had been around for years, the Scorchers brought a frenzy to the sub-genre like no one before. Sure, they might have been somewhat of a novelty around Nashville at first, but once audienc-es witnessed their feverish shows, they realized that this was no joke and when they witnessed them perform Hank Williams' "Lost Highway" it had none of irony of say, the Sex Pistols doing "My Way." And Baggs was right there pounding the drums into submis-sion night after night. The band's fan base quickly grew amongst college students, and EMI Records took notice. The label released the appropriately titled, Fervor in 1983 and critics and new fans quickly took note. It landed on several year-end lists and was not-ed particularly for its ramped up rendition of Bob Dylan's "Absolutely Sweet Marie." A few more albums followed, but by 1990, the Scorchers, without the luxury of the "Americana" movement which was soon to follow, called it quits. Around the same time, Baggs was diagnosed with diabetes. During the mid 90s, however, the sounds of classic country was beginning to pop with some alternative rock bands, and the Americana, or alt-country movement was born thanks in part to the foundation built by the Scorch-ers. Perhaps because of this, EMI Records released a retrospective of the which include some new tracks, so the Scorchers decided to give it another go to the delight of their sizable cult following around the world. The band continued to record and tour on and off ever since. In 2008, the Americana Music Association recognized them with a Lifetime Achievement Award. On July 12, 2012, Perry Baggs, age 50, was found dead in his home. Cause of death was not immediately released.
http://www.youtube.com/watch?v=4p3xi8WHVgs&feature=player_embedded
Thanks to Paul Bearer for the assist.
tim-ghianni.blogspot.com/2012/07/please-bang-drum-slowly-for-jesus-and.html
Thursday, July 12, 2012
Please bang the drum slowly for Jesus' (and Scorchers') beloved cowpunk percussion wizard
Bang the drum slowly….
One of the greatest drummers in rock 'n' roll history is gone, his frail and battered body apparently finally giving out on him.
To be fair I didn't know Perry Baggs (or Baggz, as his rock 'n' roll persona was occasionally spelled) best as a drummer.
He was the librarian at The Tennessean who liked Van Halen and admired my Hawaiian shirts. He liked to talk about music and faith.
And he liked to laugh if I quoted Dylan, Kristofferson, Lennon, Jagger or George Jones.
Oh sure, I knew who he was and I loved his band, having first seen Jason & the Scorchers way back when they were a sensation, playing at Cat's or Kat's or whatever that record store was just below Vanderbilt.
My good pal, Michael Gray, a music expert, scholar and genuine nice guy who spends his work hours at the Country Music Hall of Fame and Museum, tells me that show was "legendary. I've been hearing about it for 20 years."
There are a few of us left, I guess, who actually were there.
Andy McLenon was there, of course. He's been about everywhere Nashville rock has been fashioned.
He and the late Jack Emerson and their Praxis International – a mighty big name operating out of a basement – pretty much took Jason & the Scorch-ers to the world.
"I don't know why I'm shocked, but I am," says Andy, when reflecting on the death of his old friend, who joined up with front man Jason Ringenberg, guitarist Warner Hodges and bassist Jeff Johnson in the first (and best) version of the outfit.
McLenon says he remembers Perry as nice "kid," a 19-year-old, who auditioned for the band that for awhile had the proverbial "Next Big Thing" moni-ker written about it everywhere.
"He was a soulful little guy. He was really focused, really sweet, a joy to be around," McLenon says, adding that the medication Baggs had to take "would affect his moods" and perhaps influence the tension that sometimes existed between him and the band.
"But I know those guys love him. Jeez, Warner was like his big brother and protector from the real world. Perry was very lovable. He just got confused about reality sometimes."
Then McLenon, who is one of Nashville's truest rock scholars, reminds us that Perry was not just a drummer (although that was plenty.)
"If you look back and look at the songs he wrote early on. It's interesting. He had this musical melody thing. "He was really melodic in his writing," he says, remembering how "Jason would write the lyric and Perry would add the fetching melody on some of the great early songs like 'White Lies' and 'Money Talks.'
"Jason wrote a lot by himself, but the ones that Perry was involved in tend to be the more catchy ones," says Andy.
Then he draws a straight line between the Ringenberg-Baggs pairing and another little rock pairing of writing and singing partners.
"When you listen to Jagger and Richards, you know those are two guys whose vocals are not technically great, but when they are together with Rich-ards making harmony …. Well, I loved when Perry would sing with Jason. It was very soulful and very distinctive and very melodic."
One thing that many people probably don't know is the country side of Baggs. No, not the raucous hillbilly rock (aka "cowpunk") of the Scorchers – which has been honored with a display in the Country Music Hall of Fame and Museum.
"One of the interesting things is that in the '80s, before it was cool to do such things, Perry created this alter-ego, Austin Taylor, who would record these really country demos, things like 'If Heaven's Just a Fairy Tale, Then What's the Story Here.'
"He would sing it so intensely. Seriously, they were very strong vocals. Before the hipsters – and Perry was never a hipster – thought George Jones was cool, Perry Baggs instinctively knew he was and tried to emulate him in his alter-ego."
He adds that Baggs, who was raised in the Southern Gospel tradition, never really left that.
Later in life, after fashioning different lineups of country-fried rock efforts, Perry found his truest calling in his church. "Perry never really had a rock 'n' roll heart," says McLenon.
"He had a big heart."
Tommy Womack, who admits his love of Jason & the Scorchers and that his own band, Government Cheese owed a debt to that group, today lament-ed the loss of his good friend.
"Perry was one of the best drummers in one of the best bands ever. His health issues in the second chapter of his life shouldn't obscure that.
"He was one of the greats with a big heart and huge talent. I'm privileged not only to have seen him play many times, but to know him as a friend."
My own encounters with Perry were less musical, as mentioned a few paragraphs above. Perry worked in The Tennessean library in my final decade in daily journalism.
Before I got too old… But that's another story.
Perry not only was a devout consumer of my writing, he was a big fan of my Hawaiian shirt wardrobe and of my curly hair.
He liked to sit down by my desk and talk about everything from Van Halen to the Scorchers to God in either lightning manic speed or a slow tired drawl, depending on where his health was taking him that day.
He would describe his own musical dreams, his latest effort and, even though it was obvious his health wasn't good, he would thank his God for all that he had and all that he had experienced.
Even in physical distress, with his rockstar dreams dimming if not dead, he didn't complain.
Sometimes he'd talk about Jason & the Scorchers regrouping. He'd talk about getting together with his old mate to write "the best songs yet."
Other times he'd talk about Jesus & the boys and their impact on his life.
And he would give thanks. He had obviously found peace.
The Scorchers, of course, are regrouped and back out there playing.
But Perry had to step away, about 10 years ago.
His body frail, though his spirit strong, he no longer stand those randomly long nights in a van and didn't have the strength to sustain those marathon drumming sessions that helped punctuate the Whirling Dervish antics of the front man in the buckskin fringe or the churning and explosive guitar work of Warner Hodges.
Perry Baggs' body was discovered by police when loved ones were worried because he didn't show up in church at Scottsboro First Baptist Church the other day.
Katrina Cornwell, also a former colleague at The Tennessean, was the one who sounded the alarm.
"We were very special to each other," she said.
"I loved him very much. I appreciated him for the larger-than-life individual that he was."
Her concerns about Perry first showed up on Facebook a few hours ago, when she asked for prayers because she couldn't get in touch with him.
"For our mutual friends, please pray for Perry. Neither my friend Kay at church nor I can get in touch with him. I am EXTREMELY concerned, and if I don't hear from him pretty soon, I will take action to make sure he is OK."
Later she wrote me: "I was praying for him initially because he didn't come to church and wasn't answering phone calls or texts from me or other church members. We sent the police to do a welfare check, and they found him inside dead. I don't know the cause of death yet."
"The medical examiner is doing the autopsy this morning."
Katrina wrote the following obituary for her beloved drummer and soul mate:
Perry Armand Baggs III, 50, was born in Nashville March 22, 1962 to his parents, Perry Armand Baggs II and Betty Grace Baggs.
He was raised in the Sylvan Park area and went to Cohn High School. Perry's family attended Park Avenue Baptist Church during his childhood and ado-lescent years.
His mother and father were talented singers, who played a key role in the church's musical program. Perry has a daughter, Faith Elizabeth Baggs, El Paso Texas; three sisters, Grace, of Nashville, Kelly and Rachel, both of Knoxville; and several nephews.
When Perry was about 19 years old, he got an opportunity to audition as a drummer for the Nashville-based, country-punk band Jason and the Scorch-ers.
He spent the next 21 years as the band's percussionist. Jason and the Scorchers were on major record labels.
They had music videos on MTV and toured with some of the best in the business, notably REM and Bob Dylan. Jason and the Scorchers garnered critical acclaim in the early 1980s for its unique blending of the country and punk rock musical genres.
The critics loved the band, and in 2008, Jason and the Scorchers earned a lifetime achievement award for best musical performance at the Americana Music Awards, held at The Ryman Auditorium in Nashville.
Perry also worked as an archivist in the library of The Tennessean newspaper for 17 years before he was offered a buyout as part of a massive, compa-ny-wide reduction in staff at that time.
He then sought disability because he had already been on dialysis for kidney failure for two years.
He began receiving a disability check within six months of the initial filing.
Since that time, he has been an active member of Scottsboro First Baptist Church.
For the past three years, Perry has been a dedicated soloist and bass player at church. For a few months, the church has been paying him to play bass. Before that, he donated his time. Perry's contribution to the Scottsboro First Baptist music program helped the worship services to come alive, to touch someone's heart for Christ.
Perry was kind, compassionate, funny, generous, loving and high-energy.
He was someone who enjoyed life.
Perry loved home-cooked meals, movies, music, surfing big waves at the beach and to spend time with people he considered family: blood relatives, church members, friends and his significant other.
Most of all, he loved God, and he lived his life for Jesus Christ every day.
Of course, that obituary is written from the perspective of a broken heart, of one who has loved deeply and whose loved one has died.
And as just an old freelance writer who sometimes enjoys music, I really can't add much to that, other than to say that the young fellow with the country-flavored heart who climbed to the near-heights as a rock star is at peace.
Bang the drum slowly.
THE WRITING OF TIM GHIANNI